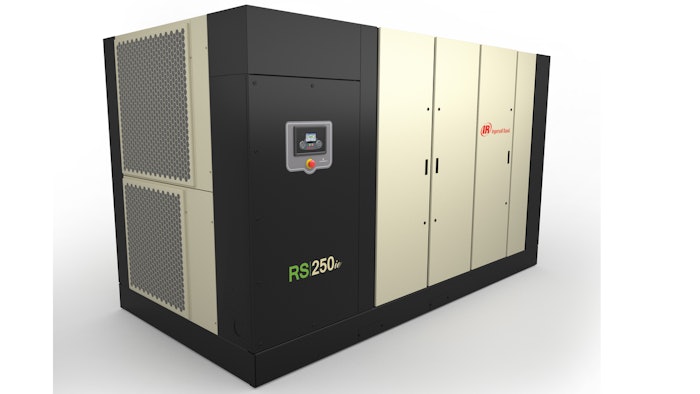 Ingersoll Rand
Ingersoll Rand (Davidson, NC) has introduced new models to its line of Next Generation R-Series oil-flooded rotary screw air compressors that provide a more energy-efficient solution. The RS200 to RS250 models are available with a new, state-of-the-art single-stage airend, or the two-stage airend that increases airflow by up to 16 percent. Features include:
Progressive Adaptive Control (PAC) Protection, a unique algorithm integrated in the controls system within each compressor. The system monitors key performance parameters for when consumable parts are nearing the end of their life, or if operating temperatures are reaching design limits. In these situations, the controls adjust the parameters to keep the machine running without overloading the motor, preventing unnecessary shutdown.
V-Shield technology, which safeguards all critical fittings by securing them with o-ring face seals in a method that is largely free from distortion. Leaks are virtually eliminated, meaning performance isn't sacrificed, regardless of how many reconnections are made.
A floating cooling system that contains heat exchangers with finger-tight connections so they can expand and contract as needed. This new design improves overall system reliability, because welded connections reduce the ability for heat exchangers to expand and contract, which is the number one reason they fail.
Ultra EL is formulated to last up to 16,000 hours, which is twice as long as other rotary lubricants. Ultra EL keeps compressors running at peak performance, minimizing downtime and lowering lifecycle costs.
Xe-series controllers, which allow intuitive access to, and control of, the compressed air system. The Xe145 controller has built-in performance analysis and graphical trending, as well as built-in sequencing for up to four compressors.
For more information, visit http://www.ingersollrandproducts.com/.