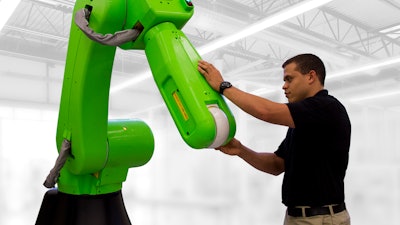 Fanuc America
FANUC America (Rochester Hills, MI) recently released two new collaborative robots (cobots), the CR-7iA and the CR-35iA.
The CR-7iA cobot features:
The ability to work alongside operators in small spaces without the need for safety fences.
Applicability in small part sorting and assembly, inspection, machine tending, and part delivery.
Three compact variants offering 550 to 911 mm reach, and 4 to 7 kg payload capabilities.
Floor, wall and ceiling mounting options.
Safety rated contact detection and familiar green exterior color.
Support for iRVision and Force Sensing.
Safety certification approved by TUV (ISO 10218-1:2011, Category 3, PL=d).
Operation with the small R-30iB Mate controller, capable of running on 120 V.
The CR-35iA cobot features:
Six-axis articulation.
Industry's first 35 kg payload collaborative robot that can work with humans in a shared workspace without safety fences.
A soft foam green cover to protect workers who are in direct contact with the robot.
Applicability in assembly and heavy-duty part transfer.
Stops safely when it touches a human operator.
Certification to ISO 10218-1.
Designed with the same high reliability as FANUC's conventional robots.
For more information, visit www.fanucamerica.com, or call 888-326-8287.