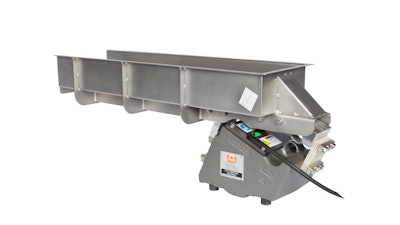 Eriez (Erie, PA) vibratory feeding equipment efficiently moves and meters a variety of virgin and processed nuts of any size or shape. The company continues to advance the design of this equipment to evolve and meet the foodservice industry's needs and regulatory challenges.
Eriez vibratory feeders are commonly used to meter nuts into downstream processing equipment. The vibratory feeder acts as the bulk metering device to provide the nuts at a controllable, easily adjusted rate. Feeders are also used to sprinkle salt, sugar or other seasonings during nut processing. Eriez electromagnetic feeders are offered in various models and designs to meet specific application requirements.
Eriez HD (High Deflection) Vibratory Feeders combine the higher tray deflection, lower frequency advantages of mechanical feeders with the trouble-free service and adjustability of electromagnetic feeders. When screening is required to remove undersize material such as excess salt or oversize materials such as agglomerated coated nuts, the higher tray deflection of HD models is ideal. HD Feeders are commonly utilized in nut processing applications when gentle feeding is critical.
Eriez HS (High Speed) Vibratory Feeders are specifically designed for fast feed rates and offer extremely fast start-up and shutdown, making this model an excellent choice for nut packaging applications.