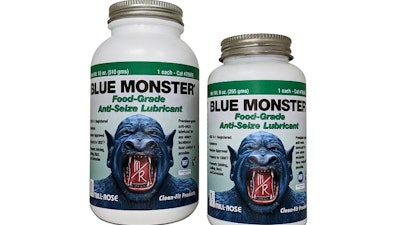 Clean-Fit Products, a division of The Mill-Rose Company (Mentor, OH) announces its Blue Monster Food-grade Anti-Seize, a premium-grade lubricant designed for use where incidental food contact is possible. The new compound is a non-drying lubricant that maintains its anti-seize capabilities at high and low temperatures, protects against rust and corrosion, water and steam, and allows for easy disassembly. Due to its outstanding lubricity characteristics with PTFE, Blue Monster Food-grade Anti-Seize Lubricant prevents seizing and galling, reduces torque required to loosen joints, and is effective to 1800°F. Additionally:
Blue Monster Food-grade Anti-Seize Lubricant is made of ingredients meeting FDA requirements and is NSF/U.S.D.A (H-1) registered, and Kosher approved.

This premium compound does not contain any solvents, metal, lead, graphite or clay fillers.

Applications include food processing machinery to lubricate stainless steel fittings, bushings, flanges, headers, nuts, screws, studs, threaded surfaces, pipes, plugs and manifolds to prevent seizing and galling of surfaces.
www.cleanfit.com, 800-321-3598