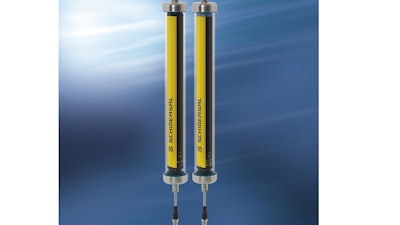 The Schmersal Group (Hawthorne, NY) has developed a new product line for safety light grids and curtains eminently suitable for use in hygiene-sensitive sectors, such as the food industry, pharmaceuticals and meat and milk processing. The new product line SLC/SLG 440 IP69K is resistant to all daily cleaning processes prevalent in such industries. Thanks to a sophisticated, detailed design, this product line achieves the protection rating IP69K and is thus protected against ingress of water during close-range high-pressure and high-temperature spray downs. Other features include:
Greater availability and a long service life for safety light curtains and grids, also allowing a compact design for encapsulated safety sensors since the protective tubes are a mere 50 mm in diameter.
Additional functions such as double confirmation, contactor control and integrated beam blanking, which allows moving parts to be conveyed through the protection field without triggering the stop signal.
A dirt indicator. A visual warning message is displayed if the sensor reception signal becomes weaker. This allows the user to take action before the machine comes to an unscheduled standstill.
www.schmersal.com; 888-496-5143