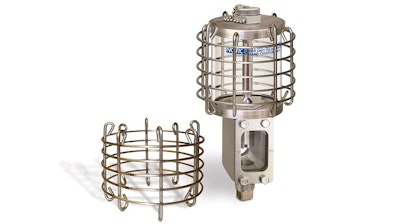 Oil-Rite Corporation (Manitowoc, WI) now offers an extra level of protection for its 9 oz. constant level lubricators located in exposed areas. A stainless steel wire guard diverts potential blows away from the glass or acrylic reservoir, and the American Petroleum Institute standard requires the use of such a protective guard for its centrifugal pumps. The Oil-Rite protective guard for 9 oz. constant level oilers has the following features:
Installs by hand – no tools or fasteners required.
Stainless steel wire construction resists corrosion.
Easy to see through the guard and inspect the oil.
It can be removed for cleaning of the glass.
Symmetrical design makes removal and reinstallation uncomplicated and intuitive.
It can be installed at the factory or applied to oilers already in the field.
Provides excellent protection of the viewing area from hard impacts.
It won't loosen or rattle from vibration.
It does not interfere with refilling of the reservoir.
It adds only about an inch to the overall diameter.
It requires no modification to the oiler.
The only instructions are "tilt and press" for installation.
www.oilrite.com; 920-682-6173