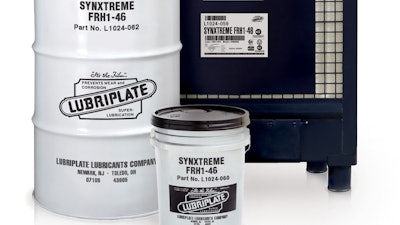 Lubriplate
Lubriplate (Newark, NJ) has introduced SYNXTREME FRH1-46, a new NSF H1-registered, FM-approved, fire-resistant, eco-friendly hydraulic fluid. The ISO 46 grade hydraulic fluid is designed for demanding industrial and food processing applications requiring fire resistant fluids. Additional features include:
Anti-wear properties over a range of temperatures.
NSF H1 registered food machinery grade, this product complies with FDA regulations CFR 21, section 178.3570 for lubricants with incidental food contact.
High flash and fire points provide safety in applications calling for fire resistant fluids.
Factory Mutual-approved, using FM test method 6930.
Biodegradable according to OECD 301F.
Availability in 5 gallon pails, 55 gallon drums and bulk container bins.
For more information, call 800-733-4755; or visit www.lubriplate.com.