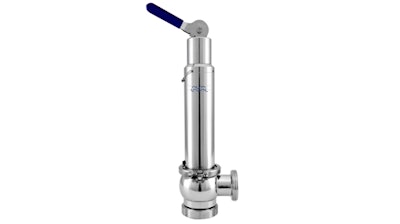 Alfa Laval
Alfa Laval (Sweden) has introduced the Safety Valve, a true spring-loaded safety valve designed to protect both equipment and people. In a potentially dangerous situation the Safety Valve will open at a predetermined set pressure. The compressed spring force, keeping the valve closed, is forced open when pressure builds up at the inlet of the safety valve. As these forces balance out, the valve will discharge and decrease pressure, ultimately reclosing as the system returns to normal. Additional features include:
Calibration to a desired pressure set point, sealed, and delivered with a PED certificate.
A hygienic design that eliminates unsanitary leaks and overflow during and after pressure peaks.
For more information, visit www.alfalaval.com.