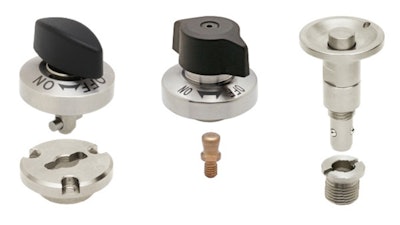 Imao-Fixtureworks (Fraser, MI) offers a complete lineup of One Touch Fasteners that are designed to reduce setup times in quick change applications. Fastener-receptacle pairs replace nut-and-bolt assembly so that operators can lock and unlock plates, panels, covers, machine components and more without the use of tools. The One Touch Fastener products are ideal for applications where there is frequent disassembly or changeover, including packaging, food production, automation, manufacturing, assembly and other industrial applications. Specifically:
The One Touch Fastener product lineup includes quarter turn clamping fasteners, ball lock fasteners, pin holding, and magnet locking types.

Flex Locators, a related product line, add precision locating so that clamping and locating are accomplished in a single operation with no tools.

Flex Locators are ideal for machining applications.

Pneumatic versions are also available.
www.fixtureworks.com/store/pc/one-touch-quarter-turn-clamping-fasteners-v26.htm