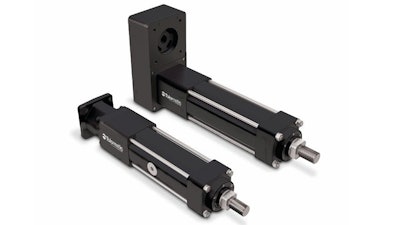 The new RSX press model (RSX096P) electric linear actuator from Tolomatic (Hamel, MN) increases the force range of the existing RSX product family to 40,000 lbf (178 kN) and is designed to be optimized for force in the extend direction. The RSX press-model electric actuator is ideal for metal-forming and assembly including pressing, punching, stamping, riveting, fastening and joining. The existing RSX080 (18,000 lbf / 80 kN) and RSX096 (30,000 lbf / 133.4 kN) electric linear actuators meet the need for many extreme-force push/pull applications traditionally done with hydraulic cylinders. The entire RSX family is designed and tested for high duty-cycle applications. The actuator's planetary roller screw provides reliable operation and long, consistent life. RSX096P press model upgrades include:
Larger tie-rods and an optimized bearing system.
A high-strength front-mounting flange.
www.tolomatic.com; 800-328-2174