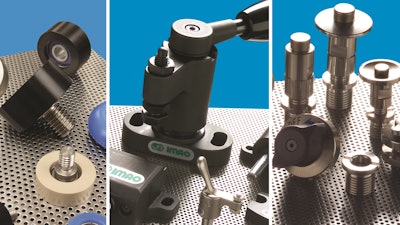 Fixtureworks (Fraser, MI) recently showcased several new product lines at IMTS, including its lineup of all-new bearing wheels, indexing plungers and TG GripSert inserts from Fairlane Products; Imao One-Touch Fasteners; and a complete offering of fixturing and workholding components. Details include:
Fairlane Products bearing wheels, featuring a roller bearing and a cover made from nylon, polyacetal, UHMW, PEEK, urethane, steel, or stainless steel.
Fairlane's extensive line of premium indexing plungers. These spring-loaded, hand retractable plungers have a wide range of applications to lock items in place. They are used to prevent any change in position due to lateral force.
TG GripSert carbide gripper inserts from Fairlane Products, designed for ultra-low-profile clamping with no dovetail workpiece preparation. With serrations designed for steel, hardened steel, titanium and aluminum, these patented triangular grippers feature two rows of teeth at different angles to maximize the pull-down effect and prevent lifting of the workpiece. They are ideal for upgrading existing vise jaws.
The expanding line of Imao One Touch Fasteners, now including pin-holding and expanding-pin versions for applications with limited space for traditional receptacles. These fasteners are a convenient alternative to cumbersome nut-and-bolt assemblies for quick, easy and secure changeover and installation without the need for any tools.
Fairlane fixturing accessories including grippers, rest pads, Swivots swivel/pivoting positioning components, Quick Release ball-lock pins, rollers and bumpers and urethane covered bearing rollers. Vise Force wedge clamps from PAWS Workholding will debut in the Fixtureworks product line. The exhibit will also feature the full lineup of manual clamps, vises, APS zero-point system, spring plungers, rest and riser pads, levers, handles, knobs, and hand wheels, supports and stops, risers, T-nuts, sliding mounts, springs, supports, grid plates and columns, and a wide range of quick change precision locating and mounting systems.
www.fixtureworks.net; 888-794-8687