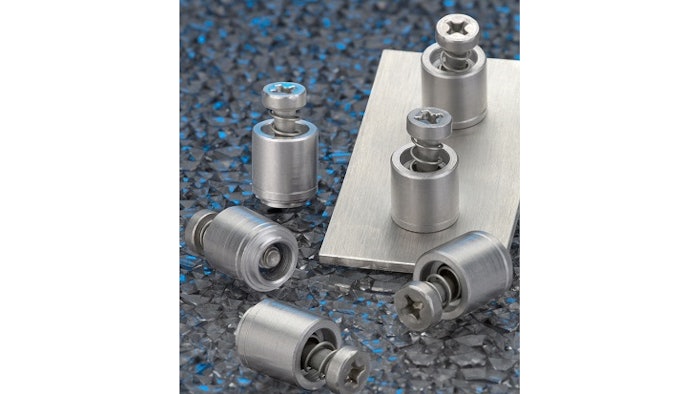 PEM PFC4 self-clinching captive panel screws from PennEngineering (Danboro, PA) install permanently into stainless steel enclosures to enable easy access whenever necessary and eliminate risks associated with loose screws. The captivated screw remains reliably in place where designed in a door or panel and will not loosen, fall out, or damage internal components. Expanding their application potential, these spring-loaded fastener assemblies comply with UL 60950 equipment access standards. Features include:
The ability to install successfully in stainless sheets as thin as .060" / 1.53mm with hardness up to HRB 88.
A shoulder that provides a positive stop during installation, and the fastener ultimately will be flush on the opposite side of the sheet for a clean and unmarred appearance. A fully recessed head in the fastened position allows for tool-only access.
400 Series stainless steel construction, providing corrosion resistance comparable to zinc-plated steel.
Availability in assorted screw lengths and in thread sizes #4-40 through #10-32 and M3 through M5.

 

All PFC4 fasteners are RoHS compliant.
www.pemnet.com; 800-237-4736