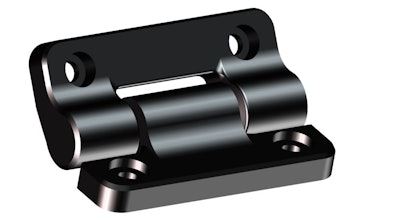 Reell
The new MH-18 molded nylon position hinge from Reell Precision Manufacturing (Saint Paul, MN) integrates the company's One-Way torque technology to achieve reliable holding force in one direction while enabling adjustment with limited resistance in the other. Features include:
A lightweight design.
Applicability in enclosure doors, covers, monitors, hatches, and components that must be positioned and held against gravity and then repositioned upwardly as needed.

Patented ReellTorq clip technology — consistent torque with a life of 20,000 cycles.

Availability with 4 N-m (35.4 lb-in), 6 N-m (53.1 lb-in), or 8 N-m (70.8 lb-in) of constant holding torque.

Minimal freeplay throughout a full 270º range of motion (configured for either forward or reverse torque direction).

A glass-filled nylon housing.

A textured black finish.
For more information, visit www.reell.com; or call 651-486-3333.