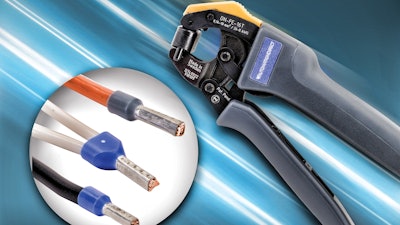 The new DN-FE-16T crimping tool from AutomationDirect (Cumming, GA) has a rotatable die and a trapezoidal crimp profile. The crimper is self-adjusting for use with insulated and non-insulated wire ferrules in sizes from 26 to 8 AWG. The crimp head is rotatable to accommodate crimping from the side or from the front. This new crimper is identical to AutomationDirect's two existing self-adjusting crimpers, other than having the rotatable die and trapezoidal crimp profile. The crimpers are lightweight, compact and comfortable for crimping a wide range of insulated and non-insulated ferrules, crimping terminals, and connectors. Features include:
Controlled-cycle ratchet action (with emergency release) to ensure crimps are completed according to specification every time.

Good balance to avoid slipping, and provides a low handle force for larger ferrule sizes.

A compact, light-weight design, providing easy access within confined spaces; a non-slip grip pad allows applying pressure against a surface for more crimp force.
www.automationdirect.com/wire-crimper; 800-633-0405