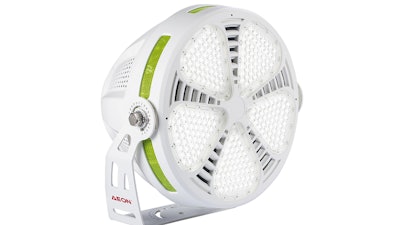 According to AEON, its AEON Flood Luminaire is the most powerful LED flood light in the industry. AEON, a division of HyLite LED Lighting (Fort Mill, SC) is the ultimate flood light for versatility and efficiency, and the AEON Flood Luminaire is designed for an incredibly long life span of over 100,000 hours. Features include:
Five different LED delivered lumen packages: 33,100lm, 44,100lm, 62,100lm, 73,500lm & 105,000lm.
Multi-Voltage options: 100-277VAC and 347-480VAC.

A fully enclosed design that will withstand extreme conditions, protecting sensitive electronic components from any external exposure, and is suitable for use in corrosive environments.
A proprietary and patented Thermal Management System that allows for continuous air flow, keeping critical electronic components cool. Revolutionary patented aerodynamic design allows for maximum wind resistance, reducing vibration and subsequent flickering of light.
With CRI>85, the AEON Flood Luminaire has the highest CRI in its class at a staggering 140 delivered Lumens per Watt.
www.AEONLEDLighting.com; 803-336-2230