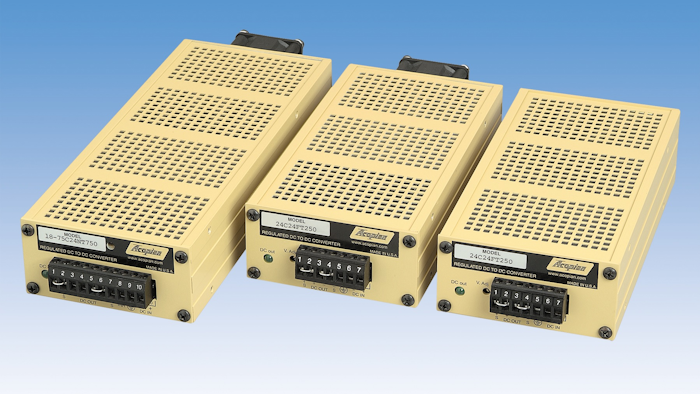 Acopian
Acopian (Easton, PA) has announced that the company's Narrow Profile DC-DC Regulated Power Supply Series is certified to UL 60950 (Information Technology Equipment) and UL 508 (Industrial Control Equipment) Safety Standards, conforms to the low voltage directive legal requirements to achieve CE marking, and is RoHS Compliant. Additional features include:
A 150-part series that comprises 100 kHz single-output power supplies in DN8 and DN8A case sizes that support inputs from 110-350 VDC, outputs from 3.3 to 125 VDC, and up to 288 watts of power.
Units that provide load regulation, overall stability and low output ripple and noise.
Offered with one or two fans.
Dimensions as small as 1.7" x 3.5" x 8.78".
Suitability for use in the broadest spectrum of industrial, consumer and industrial applications in which component size and weight are restricted.
Applicable in nuclear, coal and gas power generation/storage/distribution, automotive, manufacturing, oil exploration and refinery, as well as information and communications technology equipment.
Integral input filtering.
An output transient response for a 50-100% load step change of 300 microseconds.
Output voltage adjusted by remote with a 1K potentiometer.
Floating outputs may be referenced positive or negative by the user. 
±0.05% typical line regulation.
±0.05% typical load regulation.
Input/output isolation exceeds 2828 VDC.
Overload/short circuit, overvoltage, thermal protection, and output inhibit.
A green LED output indicator.
An ambient operating temperature range from 0° to 71° C.
An extruded aluminum case.
Threaded mounting holes to permit mounting to a chassis, cabinet wall or bracket.
For more information, visit http://www.acopian.com/dcdc-narrow-m.html, or call 800-523-9478.