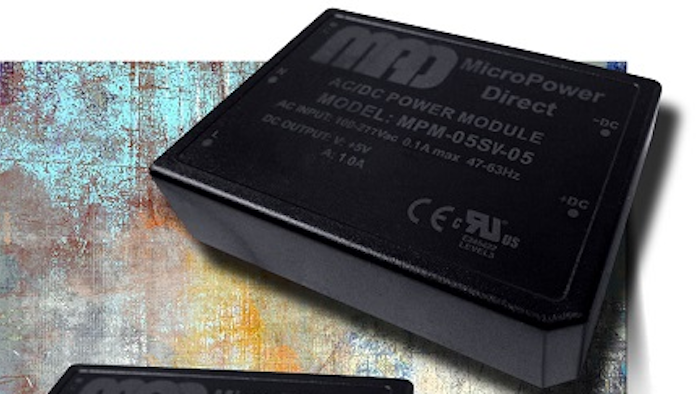 MicroPower Direct
MicroPower Direct's (Stoughton, MA) MPM-05SV series is a family of miniature, single output 5W AC/DC power supplies specifically designed to allow use in industrial power systems requiring 277 VAC operation. Features include:
6 standard models that operate from a universal input of 85 to 305 VAC.
Tightly regulated outputs of 3.3, 5, 9, 12, 15, and 24 VDC.
Filtering to EN55022 Class B.
Input-output isolation of 3k VAC.
Tight line/load regulation.
Protection for overload, over voltage, and short circuit faults.
Approved to EN 60950 and CE certified.
RoHS compliance.
Packaging in a compact PCB mount case measuring 2.10" x 1.77" x 0.826".
An operating temperature range from -40°C to +70°C (ambient).
An MTBF (per MIL HDBK 217F) >300 khours.

For more information, visit http://www.micropowerdirect.com/, or call 781-344-8226.