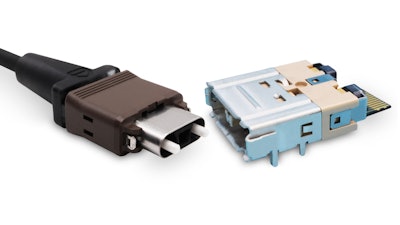 Yokowo
Yokowo (Tempe, AZ) expanded its miniature fiber optic transceiver line with the Type A multimode transceiver. At 1/10 the size of traditional SFP+ transceivers, Yokowo's Type-A transceiver reduces power consumption and heat generation, while simplifying product designs including 3D cameras, thermal imaging cameras, 3D manufacturing, AOI, laser projectors, machine vision and other vision systems.
The smaller transceiver interfaces with opto-electronic hybrid connectors facilitating fiber optic solutions in tighter spaces, especially where conventional LC duplex hardware may not be viable. The Type-A optical transceiver also combines signal and power in one component, lowering costs and enabling smaller, lighter housings for vision system designs.
Type-A multimode transceivers combine high-speed data transmission up to 300m at 12.5 Gbps with power transmission. When paired with Yokowo's uni-directional transmission connectors, higher speeds up to 50Gbps can be achieved.
The Type-A optical transceiver consumes just 150 mW of power. This in turn decreases heat generation within the machine vision housing, reducing cooling system requirements. The transceiver has an operating temperature range of -40 degrees Celsius to 85 degrees Celsius.