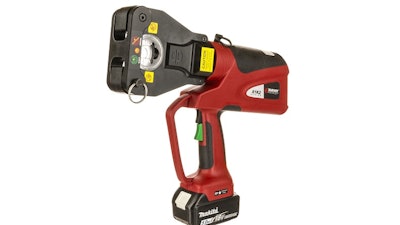 BURNDY (Manchester, NH), from Hubbell Incorporated, introduces the new PATRIOT PAT81K2 series of dieless hydraulic crimping tools. These 18V lithium-ion battery powered crimpers feature BURNDY 4-POINT dieless crimping with unique guides to provide increased reliability. Specifically:
The new latch head design of the PAT81K2 series offers users a lightweight solution with the same reliability as its predecessor.

Reducing the weight by 10% improves the tool's ergonomic balance. It also features an over-molded handle for comfort and improved grip.

This new head design is also offered as a remote tool, the Y81K2MBH, providing the same crimping capabilities.

The dieless system with expanded range-taking capabilities assists in crimping #8 AWG-1000 kcmil connectors.

Interchangeable guides ensure connector alignment, reducing the chance of misloading and tool damage. The easy-to-install guides lock into the frame of the latch head, allowing for faster crimping and improved productivity.
Additional features of the PATRIOT battery hydraulic crimper include 6 tons of crimping power, 360-degree head rotation, and mechanical ram release to conserve battery power.