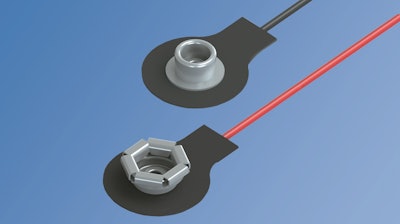 Keystone Electronics Corp. (New Hyde Park, NY) has announced that its new Insulated, Snap-On Connector Straps are pre-wired for simplified connectivity applications.
Keystone's new male and female Snap-On connector straps (9 Volt style) can be used as traditional male and female connections for 9 Volt battery design applications. In addition to 9 Volt battery use, these contact straps can be used for snap on/snap off connectivity applications in equipment, devices and automotive environments.
These connectors allow for easy and secure connectivity of devices. Supplied with an insulated vinyl covered base to reduce short circuit and contact tampering potential.
www.keyelco.com, 800-221-5510