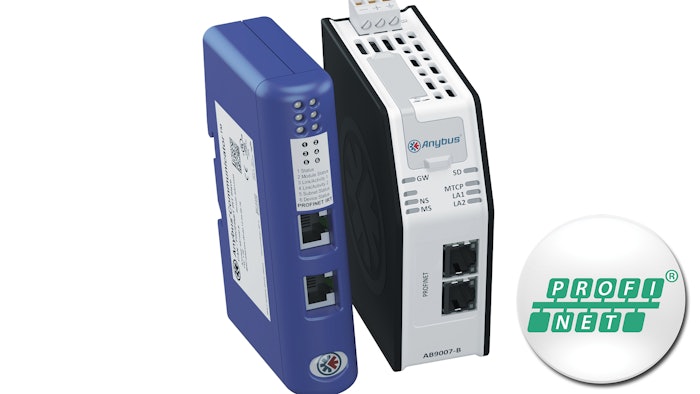 HMS Industrial Networks
HMS Industrial Networks (Chicago, IL) has released new versions of its Anybus gateways for PROFINET IRT. The new versions allow machine builders and system integrators to connect any industrial device, machine, or network to PROFINET IRT and comply with all the latest requirements of PROFINET specification v2.3 and onwards. Features include:
Anybus X-gateways connect any two industrial networks while Anybus Communicators connect non-networked devices via a serial line (RS232/422/485) or a CAN interface to all major fieldbus and industrial Ethernet networks.
All Anybus X-gateways are upgraded to conform to the PROFINET v2.3 specification, allowing up-to-date and conform connectivity between PROFINET IRT and different industrial networks, such as EtherNet/IP, EtherCAT, Modbus-TCP and PROFIBUS.
Anybus Communicators allow any serial (RS232/422/485) or CAN-based device to communicate on PROFINET IRT v2.3.
Support for PROFINET RT Class 1 and 3 and come with a PROFINET IRT Ethernet cut-through switch implemented in the module's processor – ideal when low microsecond latency is needed.
Gateways are conformance-tested to support Class A, B and C.
PROFINET IRT Device/Slave settings can be made either via the built-in web interface, or by importing the provided .GSDML file into engineering tool of the controlling PLC.
For more information, visit https://hms-networks.com/; or call 312-829-0601.