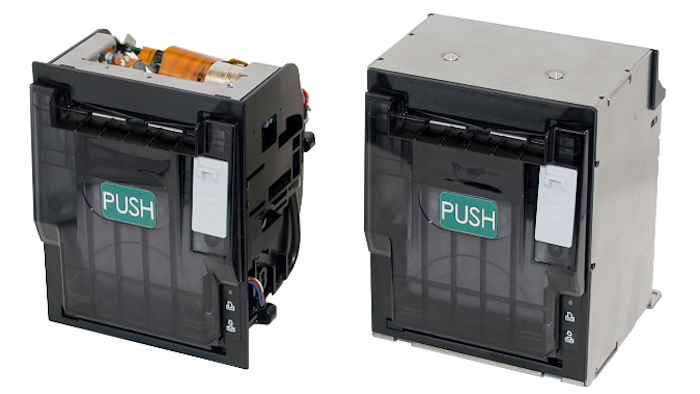 Fujitsu Components America
Fujitsu Components America (San Jose, CA) has released a new panel-mount thermal printer subassembly for OEMs that streamlines the process of embedding a printing/cutting solution. The FTP-62GUSL unit features:
A 2" wide, direct thermal printer mechanism, auto cutter and control board.

A plastic frame chassis (FTP-62GUSL001) measuring 92.0 (W) x 95.9 (D) x 115.4 mm (H), or enclosed in a metal housing (FTP-62GUSL101) measuring 97.2 (W) x 96.3 (D) x 119 mm (H).

A print speed of 170 mm per second (1,360 dotlines per second).

Command-selectable partial or full auto-cut capability.

Accommodation for up to 83 mm diameter rolls of 60-100μm-thick paper stock.

A straight paper path design to reduce jams.

A service life of 100 million pulses/dots.

An operating temperature from 0°C to +50°C.

A cutter life of 1,000,000 cuts (min).

RS-232 and USB-interface support.

Drop-in paper replacement.

Auto paper feed.

Suitable for POS, kiosk, ticketing and vending machine, measurement equipment, medical device, and banking ATM applications. 
For more information, visit us.fujitsu.com/components; or call 800-380-0059.