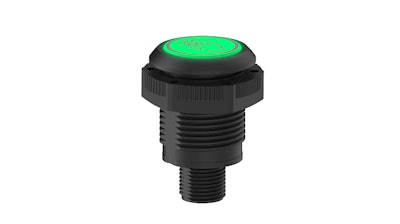 Banner Engineering (Minneapolis, MN) has announced the release of the S22 Pro Series, bright multicolor touch buttons and indicators for use on machine panels, cabinets and other industrial control applications. S22 Pro Series indicators and touch buttons feature a bright, illuminated flat surface and utilize RGB technology to produce multiple color options in each device with no programming required. Color options include green, red, yellow, blue, white, cyan, magenta, orange, amber, lime green, spring green, sky blue, violet and rose. Benefits include:
Compatibility with Banner's Pro Editor software. This free software extends the color and animation capabilities of the S22 Series beyond those available out of the box. Users can customize indication on each device to match their processes and reprogram devices to meet changing requirements.
Resistance to false triggering caused by the buildup of detergents, oils and other materials, as well as direct water spray. They require no physical pressure to operate and are easily activated by a bare or gloved hand.
A water resistant IP69K build for use in wet and washdown environments. Models made of FDA-grade material are also available for use in the food and beverage industry.