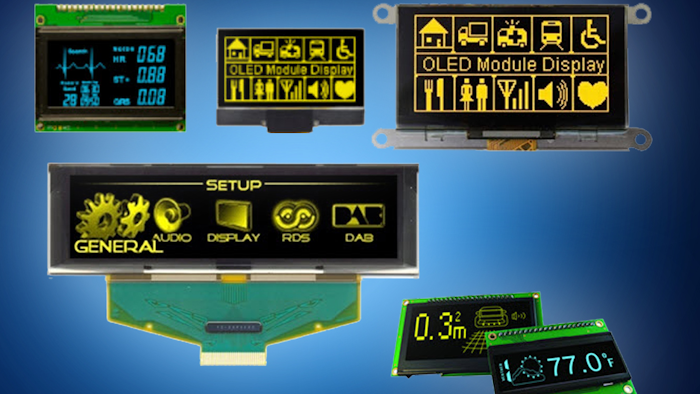 Mouser
Mouser Electronics (Mansfield, TX) is now stocking organic light emitting diode (OLED) display modules from Vishay Intertechnology. Designed with higher brightness and contrast with one-tenth the power consumption of a backlit LCD, Vishay's OLED display modules offer an ultra-thin profile and 160-degree viewing angle while delivering a faster response time over standard LCD displays. Additional features include:
3 ultra-thin technology options: chip-on-board (COB), chip-on-glass (COG), and tape automated bond (TAB).

COB OLED display modules that are board-mounted controllers.

COG modules that feature display controllers etched into the glass rather than on a PCB.

TAB OLED display module that integrates a controller IC into a tape printed circuit board.

Both the COB and COG support graphic and character formats.

No required backlight.

Readable in sunlight.

Up to 200 cd/m2 of brightness.

A 2000:1 minimum contrast ratio.

Lifetimes of up to 100,000 hours in yellow and green emitting options and up to 50,000 hours in red, blue, and white emitting options.

M

echanical compatibility with standard LCD modules with identical driving methods. 

Low-power

 3V and 5V displays applicable in wearable devices, 

automotive

displays, point-of-sale systems, portable 

test

 equipment, 

audio/video

 display systems, and 

medical

 devices.
For more information, visit http://www.mouser.com/new/vishay/vishay-oled-display-module/.