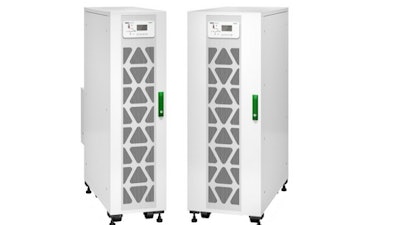 Schneider Electric (Andover, MA) has introduced the Square D Easy UPS 3S 10-40 kVA 208V 3-phase Uninterruptable Power Supply (UPS) for internal modular battery strings (sold separately) to U.S. and Canada markets. Easy to install, easy to use, and easy to service, Easy UPS 3S 208V makes business continuity easy for small and medium commercial buildings, non-IT and light industrial UPS applications.
The Ease UPS 3S offers an exceptional combination of an optimized footprint design and advanced product features, protecting critical equipment in many environments from damage due to power outages, surges, and spikes. It provides up-to-date specifications, including user-selectable efficiency modes, a wide operating temperature window, and robust overload protection. This unit delivers up to 94% efficiency in double conversion mode and up to 98% efficiency in energy-saving ECO Mode. Customers also benefit from the included start-up service to ensure the Easy UPS 3S is properly and safely configured for optimal performance, reliability, safety, and peace of mind. Competitive Easy UPS 3S features include:
Operating temperature up to 40ºC.

Common battery under 1+1 mode.

Parallel up to four UPSs.

Conformal coating on PCBA for protection in rugged environments.

Easy installation and replacement of in-built dust filter with special magnetic front-door design.