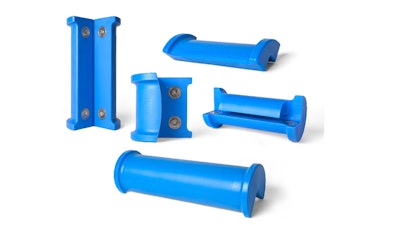 DICA
DICA (Guthrie Center, Iowa) announced a brand name change for its acquired Linton Rigging Gear line of products to "LiftGuard Magnetic Sling Protectors." LiftGuard joined the DICA family of engineered products following the company's acquisition of Linton Rigging Gear earlier this year.
LiftGuard Sling Protectors prevent damage to slings caused by contact with abrasive edges, corners or protrusions from loads being lifted.
They also keep the sling away from other significant contact points during lifting operations. Medium Duty, Heavy Duty and Coil Edge protectors have magnets installed. Specifically

LiftGuard protectors weigh 1/7th the weight of steel. They are available with optional Velcro straps.
When using synthetic web slings, the capacity of Medium and Heavy Duty LiftGuard Edge Protectors is calculated at 12,500 psi/1" of sling width per protector. When using synthetic round slings, wire rope slings or chain slings, LiftGuard product capacities are 12,500 psi of compressive strength per protector.
LiftGuard Sling Protectors provide sling capacity benefits. The shape of each LiftGuard protector creates a D/d ratio of 5/1 or 5. This high D/d ratio allows users to utilize 75% to 90% of their sling capacity.
LiftGuard Magnetic Sling Protectors are available in Medium Duty and Heavy Duty models. Specialty Grooved units are designed for I-beams and Coil units are available for lifting steel coils.