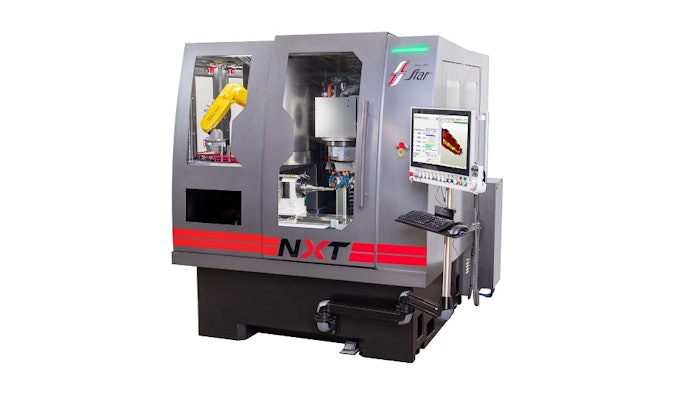 NUM
Star Cutter Company (Farmington Hills, MI) and Garr Tool (Alma, MI) jointly developed the NXT, a 5-axis CNC machine tool that completely automates the production of complex profile end mills, from blank to finished tool.
Based on NUM's Flexium+ CNC system and NUMROTO software, this 5-axis machine tool features:
Linear motors instead of ball screws on the X, Y and Z axes.
Direct drive torque motors on the B and C rotary axes.
A liquid-cooled spindle motor.
Three types of spindle motor that include a speed unit capable of 24,000 rpm and a power unit rated at 28 kW.
A footprint of 7' 6'' x 6' 6" (2300 x 2032 mm).
An installed height of 7' 5" (2284 mm).
A grind zone with maximum X, Y and Z travels of 19.7", 25.6" and 29.5" (500 mm, 650 mm and 750 mm), respectively. 
The ability to use large diameter grinding wheels for profiling applications or small, sub 1" (25 mm) diameter wheels for PCD pocket grinding on the same machine.
A fully integrated Fanuc 200iD compact 6-axis short arm robot.
The machine can be accommodated on the shop floor. The base of the machine is cast in Zanite Plus polymer composite to ensure mechanical rigidity and thermal stability.
The machine can accommodate up to 15" (381 mm) end work and up to 10" (254 mm) diameter parts.
Automated wheel changing and probing is standard with up to 8" (203 mm) diameter wheels, and the NXT can also run up to 10" (254 mm) diameter wheels with coolant manifolds and up to 12" (305 mm) diameter wheels without.
In-process measurement data is fed directly to the CNC system's NUMROTO software to provide adaptive real-time control of the entire grinding process. 
The NXT is designed for ease of integration with other forms of industrial automation and handling robots. An extensive range of factory-build and retrofit options include a traveling W-axis and a 12,000 rpm wheel dresser.