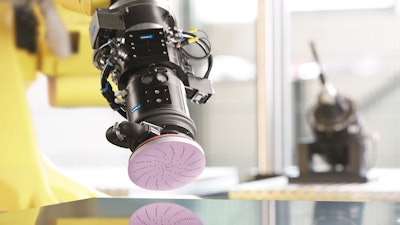 Manual polishing, grinding and brushing operations can be exhausting and require a high level of physical effort. Now, manufacturers can reduce time and costs, lower the risk of employee injury, and achieve perfect results by automating their material removal processes with the help of a robot.
The new SCHUNK (Morrisville, NC) machining tools are especially designed for automated applications and always ensure perfectly machined surfaces. Specifically:
The AOV orbital sander tool is specially designed for grinding and polishing workpiece surfaces. The pneumatic unit is driven by a vane motor and achieves rotational speeds of 10,000 RPM. The axial bearing of the motor ensures compliance, and consistent contact forces act on the workpiece surface. Perfect polishing and grinding results can thus be achieved, even if the surfaces initially were uneven.

The MFT-R is the ideal solution for manufacturers who require a particularly flexible and robust polishing spindle for polishing and brushing of workpieces with axial compliance. The spindle is equipped with a pneumatic vane motor with a maximum rotational speed of up to 5,600 RPM, but the rotational speed can be reduced to a minimum for achieving perfect surface end results. The robust motor has a very short stopping time and therefore reduces the whole machining time.

The PCFC unit completes the SCHUNK portfolio. If a workpiece must be machined with a previously defined force, the compensation unit renders excellent services. The PCFC ensures that a consistent compliance force is acting in any position, due to the position sensor. It compensates the weight force together with the pressure control valves provided by the customer. The PCFC can be combined with various tools and is therefore suitable for numerous application purposes.