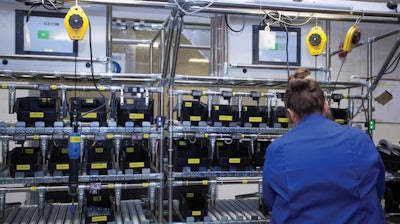 With Mitsubishi Electric's guided operator solutions, picking mistakes can be easily eliminated, helping to reduce waste, improve quality and boost productivity.
Based on the Japanese principles of the 'Poka Yoke' method of eliminating mistakes before they can occur, guided operator solutions are a simple, versatile system which do away with the need for parts lists or operator instructions, delivering faster assembly times, increased assembly quality and reduced requirements for operator training.
Terminals are easily installed on pipe racking and connected via a dedicated cable that avoids the need for multiple cables to the main controller. Intuitive connectors enable fast installation of networks, while terminals can be quickly set up with an address writer using dedicated software.
The variety of terminals ensure that the solution is suitable for just about any application. Photoelectric sensors provide options for applications where high speed picking is essential, or for more cost-sensitive applications, an array of push button and lever feedback actuators are available.
https://emea.mitsubishielectric.com/fa?redirect_from_legacy=1