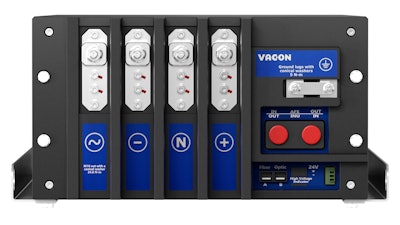 Danfoss Drives
Danfoss Drives (Research Triangle Park, NC) has introduced the VACON® 3000 drive, a new modular drive solution for medium-voltage applications. Designed to meet the specific needs of industrial applications between 3,300 and 4,160 Volts, the VACON 3000 enables enclosure for applications with limited space and stringent conditions. Additional features include:
Availability in powers up to 6 MW.
A simplified pre-charge unit design that limits the inrush current for fast, safe start-up.
Flexible front-end configuration options, including a diode front-end- based 12-pulse configuration, and an active front end (AFE) option for regenerative braking and low harmonics.
The same graphic user interface as the VACON 100 Industrial drive.
Passive components for the drive system, including LC filters and common mode filters for AFE variants, DC chokes for 12-pulse variants, and output du/dt filters.
Easy-to- handle inverter units that are compact, robust, and liquid-cooled—making it suitable for adverse ambient conditions.
Single-phase modules with grounded heatsink simplify the solution's serviceability.
The ability to connect the modules in parallel to provide the user and system integrator with design flexibility.
In order to achieve the system customization required by unique customer solutions, Danfoss will work closely with experienced system partners in a highly-specialized Medium Voltage (MV) Partner network. This ensures that customers receive systems that meet specific system design requirements, as well as the highest levels of support in planning, construction, commissioning, and maintenance.
For more information, visit http://drives.danfoss.com/home/#/.