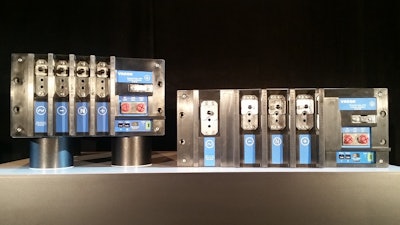 David Mantey
Last week, Danfoss Drives launched the new Vacon 3000 drive (see photos in gallery), a new medium-voltage drive that was designed specifically for industrial applications between 3,300 and 4,160 Volts.
At the same press event, the company launched its new Medium Voltage Partner (MVP) Program, which is designed to provide engineering support and training to OEMs and system integrators implementing the aforementioned medium-voltage drive.
The MVP Program is a web-based service program that offers tools, resources, engineering support, and training, as well as partner certification, while the partner remains responsible for engineering and assembling the cabinets to suit customer requirements.
According to John Thorton, president of Mukwonago, WI-based Global Resources, his company served as the "guinea pig" for the MVP program as it built a live demonstration using the Vacon medium voltage drives for MINExpo International, which was held in Las Vegas, NV in late September 2016.
"I was excited to work with the product [MVP], it was easy to use," Thornton said. "Assembly is no longer the problem; now it's a matter of how quickly you can design the system."
According to Dan Isaksson, the head of medium voltage drives at Danfoss, the estimated value of the medium-voltage drives market is $2.5 billion.
Danfoss (13% market share) hopes to gain market share from industry leader ABB (16%), while maintaining its lead over Siemens (11%), and Rockwell Automation (8%).
According to a presentation by Heikki Hiltunen, senior vice president of global sales, marketing and aftermarket services at Danfoss Drives, the company has 4,800 employees focused on the drives market. The product line is supported by 12 factories and R&D centers around the globe.
The company expects stable growth from the drives market:
4.2% expected growth in the low-voltage AC drives market.
5.0% expected growth in motion drives.
3.9% expected growth in medium-voltage drives.
"We are excited to offer the new VACON 3000 medium-voltage drive, and even more excited about the potential of this fully-customizable solution from our OEM and integrator partners to the industry," said Claudio Baccarelli, director of the partner program at Danfoss in a press release. "The MVP Program comes backed by the knowledge and experience of our 5,000 drives experts around the globe, and focuses on true collaboration to ensure our partners' success in demanding industries like energy, metal, oil and gas, mining, and marine."