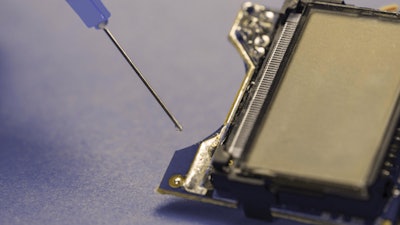 Supreme 3HTS-80 from Master Bond (Hackensack, NJ) is a one part, silver filled epoxy adhesive that is not premixed and frozen and features an unlimited working life at room temperature. Supreme 3HTS-80 is a thick paste with a specific gravity of 3.9 that can be readily dispensed from a syringe. Supreme 3HTS-80 offers:
A volume resistivity of less than 0.05 ohm-cm.
Upon curing, a hardness of 50-60 Shore D and a high thermal conductivity over 20-25 BTU•in/(ft2•hr•°F) [2.9-3.6 W/(m•K)].
This 100% reactive epoxy bonds well to metals, composites, glass, ceramics, and many plastics. As a toughened system, Supreme 3HTS-80 can withstand thermal cycling and shock with a service operating temperature range from -100°F to +350°F [-73°C to +177°C].
www.masterbond.com
; 201-343-8983