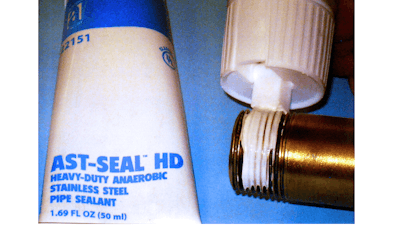 AST-SEAL HD Anaerobic Thread Sealant w/PTFE from Anti-Seize Technology (Franklin Park, IL) withstands high-pressures and resists vibration loosening, as well as industrial chemicals, hydrocarbons, solvents, gasoline, ethanol gases and most acids. Specifically:
AST-SEAL HD is the ideal product for tough thread sealing applications that have to be put back into service quickly and reliably.
It is a unique class of thread sealant, because it undergoes a chemical cross-linking to cure in the threads of the pipe to form a leak proof polymer seal.
AST-SEAL HD Will not plug up filters, valves or gauges.
It lubricates and prevents corrosion, seizing and galling, and allows for easy disassembly is UL classified and approved for use with Diesel Exhaust Fluid (DEF) meets the requirements of ISO 22241.
AST-SEAL HD is ideal for use on stainless steel pipe and fittings, connections in hydraulic, pneumatic, lubrication, steam and refrigerant systems.
www.antiseize.com; 847-455-2300