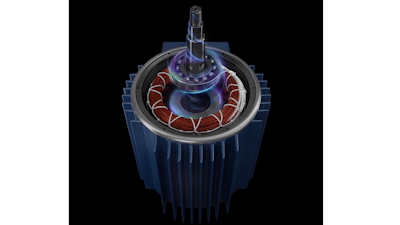 ExxonMobil (Spring, TX) has launched Mobil SHC Polyrex 102 EM synthetic electric motor grease. According to the company, testing has proven the grease's ability to increase the mechanical efficiency of electric motors, which power a vast range of industrial machinery, while delivering excellent equipment protection. Through this enhanced efficiency, Mobil SHC Polyrex 102 EM can help industrial operators reduce their electricity bills. For example, a $500 investment in Mobil SHC Polyrex 102 EM grease in a plant with 100 electric motors could provide more than $11,000 in potential energy savings each year. Suitable for use in electric motors of any size, Mobil SHC Polyrex 102 EM helps:
Maximize wear protection.
Increase electric motor life, even at temperatures up to 180°C.
Reduce maintenance costs, extend re-greasing intervals and improve equipment uptime.
Enhance safety by extending maintenance intervals.
Mobil SHC Polyrex 102 EM is also ideally suited for fill-for-life applications.
www.mobil.com; 800-582-3645