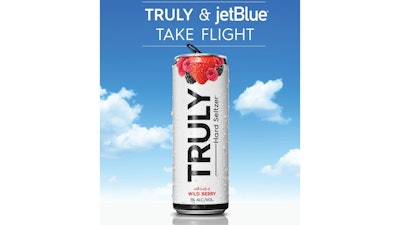 Truly
BOSTON — Truly Hard Seltzer on Thursday announced a partnership with JetBlue to be the first hard seltzer available to drinkers and travelers at 35,000 feet.
Coming to tray tables this month, JetBlue will add cans of Truly Wild Berry to its menu. It is one of 13 flavors that recently were reformulated to be more crisp, clean, refreshing and more drinkable, with no lingering bitterness in the aftertaste.
"We couldn't be more excited to be the first hard seltzer available at 35,000 feet and bring refreshment to the skies," said Lesya Lysyj, CMO of The Boston Beer Company. "Just like JetBlue, Truly is always looking for ways to innovate, push the status quo and deliver more of what drinkers and customers want, and we can't think of a better partner for Truly's first flight."
Truly Hard Seltzer joins JetBlue's diverse roster of inflight food and beverage offerings available for purchase inflight, alongside the airline's always complimentary, unlimited brand name snacks The addition of Truly is the latest from the airline that offers comfort from takeoff to touch down with a wide range of inflight food and beverage options and larger inflight experiences, including Flytoberfest, the first-ever inflight beer flight, and Shakes on a Plane, an inflight mixology class.
"We are constantly listening to our customers and diversifying our inflight offerings to make sure we're making the products they love on the ground available to them in the skies," notes Mariya Stoyanova, director of product development at JetBlue. "Bringing Truly Hard Seltzer on board is another fun way to deliver on our promise of providing a preferred customer experience with our partners at The Boston Beer Company."