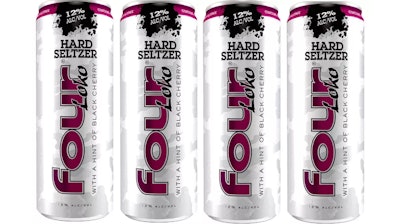 Four Loko
After teasing it this summer with a viral marketing campaign on social media, Four Loko officially rolled out its first hard seltzer to retailers on Wednesday.
The Phusion Projects brand's first seltzer flavor, black cherry, has 12 percent alcohol by volume (ABV) and comes in 23.5 oz. single-serve cans. More flavors will reportedly launch in spring 2020.
Most popular hard seltzers on the market contain 4 to 5 percent ABV. Four Loko's website labels the new product as "the hardest hard seltzer in the universe."
This past August, Four Loko's social media campaign promoted images of a "sour" hard seltzer "with a hint of Blue Razz." Those images showed a 14 percent ABV on the can, though that product hasn't been released.
"When we first posted about it on Four Loko's social channels, we had no idea the response would be as massive as it was," Phusion Projects co-CEO Jaisen Freeman said in a press release. The Aug. 13 Tweet has generated 25,600 retweets and 98,900 likes.
According to Nielsen market research, the hard seltzer beverage category has generated $1.2 billion in sales in 2019 through Oct. 5. The top three selling brands are — in order — include White Claw, Truly and Bon & Viv.