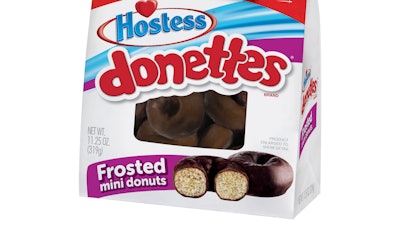 Hostess
Hostess Brands reported its 2019 third quarter financial results on Wednesday, led by healthy year-over-year sales growth for the Kansas City, MO-based baked goods maker.
Hostess posted Q3 total sales of $227 million, up 7.7 percent year-over-year, which the company attributes to higher volume of core Hostess branded products and breakfast innovation driven by distribution and merchandising support, as well as previously announced price increases.
The company's Q3 total profit of $10.7 million was down slightly from $11.2 million a year earlier.
Hostess expects continued organic sales growth for the remainder of 2019, driven by the same Q3 factors.
"We are very pleased with the continued growth momentum of our product offerings and our demonstrated ability to meaningfully increase point-of-sale dollars and market share across sales channels," commented Andy Callahan, Hostess president and CEO. "We achieved significant revenue growth in our Hostess-branded core and new breakfast products during the quarter. This strong top-line growth combined with ongoing cost efficiencies from the disciplined investments in our Chicago bakery contributed to a significant increase in profitability and strong cash flow generation. With our focus on growth and efficiency grounded in our five pillars, we remain confident about the growth potential we have for the balance of the year and 2020."