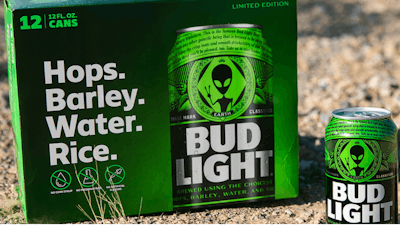 Anheuser-Busch
Bud Light is tapping into a grassroots effort to "Storm Area 51" this weekend. The company announced an alien-themed Bud Light Can (and merchandise) to share with any alien that leaves the sanctuary of Area 51 on September 20th.
In July, Bud Light pledged free beer for all aliens who escaped and promised to create a limited-edition alien pack a tweet received 51K retweets.
While the tweet fell short, Bud Light decided to make it anyway.
The packs are available in Nevada, Arizona, and California. The special-edition aluminum cans feature a green alien and black background as well as a new crest welcoming all extraterrestrials from near and far to crack a cold one.
Bud Light also produced an alien-only fridge stocked with specialty cans. The fridge is located in a coveted Las Vegas club's VIP section at the Luxor Hotel and Casino that will be roped off and reserved exclusively for aliens.
Bud Light is also sponsoring the Area 51 Celebration music festival on September 19 at the Downtown Las Vegas Events Center.