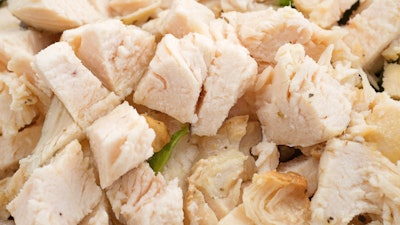 Rockmart, Georgia-based Tip Top Poultry, Inc. is recalling approximately 135,810 pounds of fully cooked poultry products that may be adulterated with Listeria monocytogenes. The U.S. Department of Agriculture's Food Safety and Inspection Service made the announcement.
The frozen, diced, and mechanically separated ready to eat chicken was produced on January 21 and shipped to hotels, restaurants and institutions nationwide. The problem was discovered on August 17 when the Canadian Food Inspection Agency notified FSIS that a sample of product produced by Tip Top Poultry tested positive for the presence of Listeria monocytogenes.
Canadian public health and food safety partners, including the Public Health Agency of Canada and the Canadian Food Inspection Agency, had already been investigating a Listeria outbreak when the positive testing was revealed. Their investigation is ongoing.