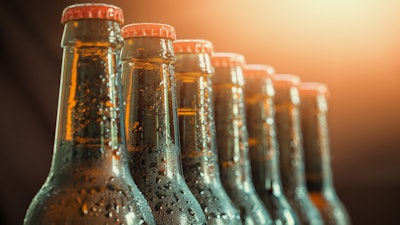 Milwaukee, Wisconsin-based Lakefront Brewery is asking purchasers of a cherry sour beer to be careful with their My Turn Junk brew, as the bottles carry the risk of exploding. The company issued a voluntary recall of the kettle sour style beer after discovering that as the wild yeast from the cherries in the beer continues to ferment, pressure builds up that could cause the bottles to explode.
The recall statement urged those who have purchased the beer to either carefully dispose of it or refrigerate the beer immediately. The beer itself remains safe to drink, as the only risk, according to the company, comes from pressure building up from the fermentation that continues when the beer is warm.
Although a few bottles have reportedly exploded, there have been no injuries. Anyone seeking a refund is asked take a picture of the bottle's back label and email the photo, along with their address, to support@lakefrontbrewery.com by October 1.