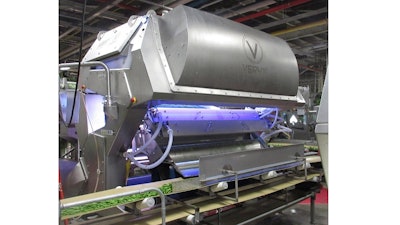 Key Technology (Walla Walla, WA), a member of the Duravant family of operating companies, presents its most versatile VERYX belt-fed digital sorters, with specific design elements that benefit vegetable processors producing multiple products. VERYX is the world's only belt-fed sorter that can inspect product entirely in-air with top and bottom sensors in order to detect and eliminate all foreign material (FM) and the right amount of product defects to make grade. Features include:
Key's unique recipe-driven operation, along with the ideal hardware and software to sort any number of different products; VERYX can be changed over to handle a new product in seconds.
Sort recipes saved to memory for quick recall, meaning VERYX eases use and ensures repeatable results to optimize product quality and maximize yield.
For processors of both canned and frozen vegetables that are sorting a variety of wet products prior to blanching, Key tailors each belt-fed VERYX with the ideal sensors, sensor positions, lighting, ejection system, product handling and software dedicated to the processor's products and objectives.
www.key.net/products/veryx; 509-529-2161