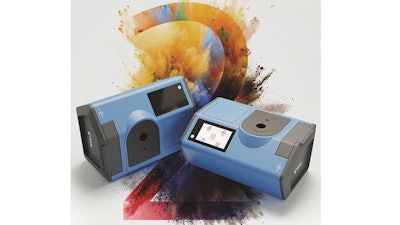 BYK-Gardner USA (Columbia, MD) is introducing a new Benchtop spectrophotometer, the color2view, which represents a revolution in color measurement in every respect. By combining several, different measurement methods, the color2view becomes an objective eye that evaluates our visual color impression in its entity. The combination of a spectrophotometer and a fluorimeter opens completely new perspectives for controlling color quality and guaranteeing long-term color stability. Easy to operate, intuitive navigation and new functionalities with the "special touch" create an unprecedented user experience:
The compact and lightweight instrument can be easily rotated to adapt the orientation - "top or front port" - to one's personal needs or sample size and shape.

Operation via the brilliant, color touchscreen is icon-based and just as intuitive as using a smart-phone.

An integrated camera permits a live preview of the measurement spot. This prevents false readings on imperfections or scratches and ensures precise positioning of the sample.

A storage compartment was designed for standards, which ensures that the standards are always at hand and yet protected, and a smart sample holder. The sample holder can be stored flat in the housing of the instrument when not in use and be parked at several positions on its way to the measurement area where it touches the sample's surface gently thanks to the soft-close function.

The color2view X models can be used with interchangeable apertures to measure small to large samples.

Breakthrough technical performance guarantees a seamless global color management across the complete supply chain.