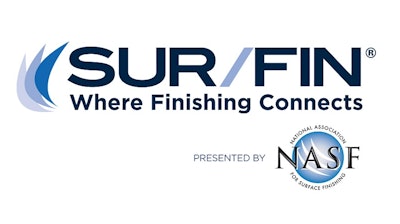 Registration is open for the SUR/FIN Manufacturing and Technology Trade Show and Conference, taking place in Detroit, Michigan, November 2-4, 2021. Presented by the National Association for Surface Finishing (NASF), the event brings the best in surface finishing together for a week of education, networking and exhibits.
"There is an increasing desire to reconnect with people in a personal way," says Steve Smith, SUR/FIN Committee Chairman "All of us have been living in a virtual world for months now. And most, like myself, are eager to enter the real world again. There is no better way to see all your key contacts in the metal finishing industry than at SUR/FIN."
In addition to technical insights on the current state of surface finishing, speakers will discuss the future impact of regulations, new applications and the future of the industry.
SUR/FIN registration includes:
75 conference sessions
Training courses
Engaging keynotes
Networking reception
Access to the exhibit hall
"The NASF Technology Advisory Committee received excellent papers to review for inclusion. The information that will be presented at SUR/FIN 2021 is very high in terms of quality and variety for everyone involved in surface finishing," says Brad Durkin of Conventya, TAC Committee Chairman.
For more information and to register, visit nasfsurfin.com.
About SUR/FIN: SUR/FIN is the only trade show connecting hundreds of surface finishing professionals to the industry's best products, latest innovations and most influential leaders. Alongside our tradeshow, featuring over 150 exhibitors, SUR/FIN also hosts the annual Manufacturing & Technology Conference.
About NASF: Located in Washington DC, NASF represents the interests of businesses, technologists and professionals in the surface coatings industry. Its highly regarded programs and activities are informed by NASF's mission to advance an environmentally and economically sustainable future for the finishing industry, and promote the vital role of surface technology in the global manufacturing value chain.