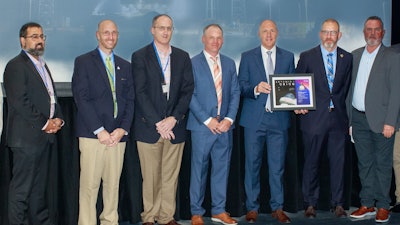 IFT
On Tuesday, August 15, 2023, Imagineering Finishing Technologies (IFT) was recognized for its dedication to the NASA Space Launch System (SLS), Orion spacecraft, and Exploration Ground Systems programs that support the Artemis missions.
Joining IFT senior management and employees to celebrate the successful first launch of the Artemis I mission included leadership from NASA, Lockheed Martin, Boeing, as well as other key suppliers and partners.
AS9100 certified for electroless nickel processing, the award and banner presentation were made at IFT's Emerson Avenue, Indianapolis operation. The facility is NADCAP accredited for its advanced non-destructive testing and inspection services (NDT) department.
Jim Hammer, CEO of Imagineering Finishing Technologies, said, "I'm proud of our team members who are trained to serve as boots on the plant floor for our customers to execute their critical requirements related to metal finishing and testing. The process specifications require strict compliance and precise workmanship from the IFT team and we have earned their trust and appreciate today's recognition from the Artemis mission leaders."
Hammer continued, "Imagineering has Space technology in its DNA as the founder and my father-in-law, David E. Huber, University of Notre Dame Metallurgical science graduate's first job was at Oakridge Laboratories. He designed experiments to determine the performance of different materials under various conditions during wind tunnel exposure."
IFT has been an integral part of NASA's next-generation space program over the last 10 years. Since the first project, IFT has processed hundreds of large components for NASA's Space Launch System platform. In 2018, the company was recognized by NASA as an appreciated supplier for its support of the Space Launch System (SLS).