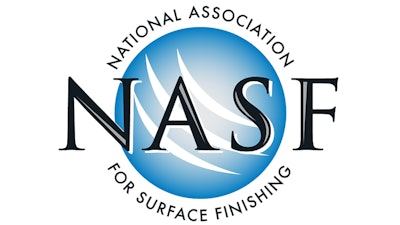 NASF
Starting June 6th, surface finishing industry professionals will converge on Cleveland's Huntington Convention Center for several days of networking and business opportunities.
This year's SUR/FIN convention – an annual event produced by the National Association of Surface Finishing (NASF) – hopes to delve into the most pressing issues and explore the latest cutting-edge technologies.
This year, SUR/FIN will feature a keynote address from Jeff Szotek, a senior technical specialist for the automaker Stellantis. This talk will discuss the development and evolution of nickel chromium electroplating. According to the NASF, Szotek will share personal experiences gained by years spent on both the supplier and OEM side of the industry, adding that this framework "demonstrates the necessary foundation to address the next evolutionary adaptation, reducing hexavalent chromium usage to meet automotive sustainability initiatives."
The event's Blum lecturer this year is Tim Hall, research director for Faraday Technology, Inc. Hall's talk will focus on training the next generation of surface finishers and electroplaters, something NASF says "is a worthy cause for each of us and one that the NASF/AESF has shepherded for years." Hall will share his experience coming up through the industry, first as a mentee and now as a mentor. Following Hall's talk, NASF says the Young Professional reception will enable attendees to "find a mentor or become one."
Outside of these presentations, attendees will have ample opportunity to attend educational sessions covering a wide range of topics – from finishing accreditations and anodizing tips to emerging technology and regulatory updates. Likewise, nearly 200 exhibitors will showcase their latest wares on the trade show floor.
For more information on this year's SUR/FIN convention, visit https://nasf.org/join/sur-fin-expo-2023/.