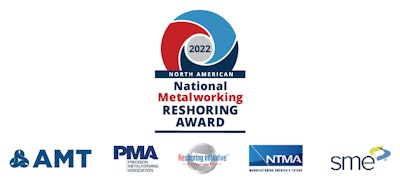 Hardinge Inc., a multinational machine tool and accessories builder with global headquarters in Atlanta, Georgia, received the 2022 National Metalworking Reshoring Award in recognition of its success in bringing manufacturing back to the United States.
The 2022 award was presented on Sept. 16, 2022, at IMTS – The International Manufacturing Technology Show at McCormick Place in Chicago by Harry Moser, founder and president of the Reshoring Initiative. The award honors companies that have effectively reshored products, parts, or tooling made primarily by metal forming, fabricating, casting, or machining, including additive manufacturing.
The award is made possible by the Reshoring Initiative; the Precision Metalforming Association (PMA); AMT – The Association For Manufacturing Technology, which owns and produces IMTS; SME; and the National Tooling and Machining Association (NTMA).
Hardinge's extensive work bringing back manufacturing production to the United States made theirs a winning case. "Hardinge shifted the manufacturing of its milling and turning machine center solutions from its Taiwan plant to its plant in Elmira, New York," Moser says. "What could be more appropriate at IMTS 2022 than for the winner to be a leading AMT member and IMTS exhibitor, which has manufactured machine tools in the United States since the 1890s?"

Moser believes that reshoring work done by companies like Hardinge has helped invigorate manufacturing in the United States and recognizing their accomplishments is important, saying, "The Reshoring Award has helped accelerate reshoring from 6,000 manufacturing jobs per year in 2010 to 260,000 in 2021."