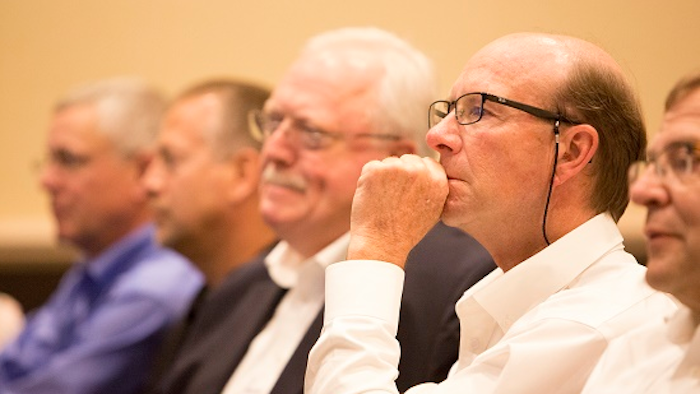 NASF SUR/FIN
The National Association for Surface Finishing (NASF) has announced the return of a special session titled "Competing and Remaining Competitive in a Nadcap Quality World," at the 2016 SUR/FIN Manufacturing & Technology Conference and Tradeshow, to be held at the South Point Hotel & Conference Center in Las Vegas, June 6-8.
In today's competitive and changing market, success in manufacturing demands significant knowledge for innovative results and a detailed/well thought-out succession plan for the future. Nadcap accreditation identifies companies who excel in top-quality special processes. Most aerospace prime contractors and their special process suppliers now adhere to Nadcap, which defines a standardized approach to quality assurance and establishes a consistent method to improving performance throughout the supply chain. In addition to a Quality Management System, these accreditations are the gateway for companies to tap into the highly demanding and highly lucrative aerospace supplier market.
This informative session includes four 30 to 40-minute sections and will finish with a question and answer roundtable with the leading experts in the industry. Section details include:
Why Nadcap? The History and Structure of NADCAP/Nadcap (Presented by Michael Davis – Prior Lead Nadcap Auditor; Former Chem Processing Task Group Chair; Retired GE Aviation Engineer)
Stepping Up Your Game to Compete in the Aerospace Arena (Presented by William Corcoran – Lead Nadcap Auditor; Former Nadcap Supplier; Nadcap Consultant)
From Mandate to Merit – A Supplier's Nadcap Journey (Presented by Michael Noetti – Principal of a Major Nadcap Supplier, Magnetic Inspection Laboratory Inc.; Past Supplier Support Committee Leadership Sub-Team; Chair - Mentoring Program)
Succession Planning (Presented by Matthew C. Akin – Nadcap Session Chair; Vice Chair-SUR/FIN Steering Committee; 14-Year Nadcap participant as a Supplier to both Subscribers and Suppliers; President of TrueLogic Company)
The session will be held at the South Point Conference Center in Sonoma Room C from 2:30 – 5:30pm on Monday, June 6th. All those registered for the conference (including those who just registered for the tradeshow exhibits) are welcome to attend at no additional charge.
Register before June 4th to take advantage of online registration and a reduced registration fee: www.nasfsurfin.com.
About NASF SUR/FIN
The NASF SUR/FIN Manufacturing & Technology Conference & Tradeshow is surface technology's annual event that connects hundreds of finishing professionals to the industry's best business opportunities, latest innovations and most influential leaders.  This highly sought after conference and tradeshow offers 3 days of valuable networking, in-depth conference sessions and direct access to hundreds of suppliers. Reservations for this industry leading conference may be made online at www.nasfsurfin.com. This event is open to members as well as non-members of NASF.