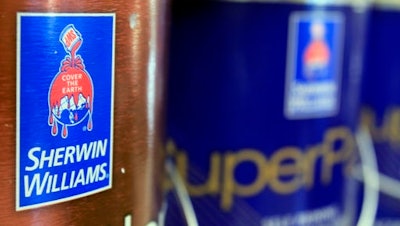 AP Photo/Pat Wellenbach, File
WASHINGTON (AP) — Sherwin-Williams, which has long claimed to "cover the Earth" with its paints, is buying rival Valspar for about $9 billion in a move that it says will expand its reach in Asia and Europe.
Sherwin-Williams said Sunday that it is paying $113 a share in cash, a 35 percent premium to the closing price of Valspar's stock Friday. It valued the deal at $11.3 billion including the assumption of about $2 billion in Valspar debt.
The combined company would employ 58,000 people and would have had revenue of $15.6 billion last year.
John Morikis, president and CEO of Sherwin-Williams Co., said the deal will enable the companies to save $280 million annually within two years by cutting administrative expenses and raw-material costs. The savings should reach $320 million in the long-run, he said.
Last year, just 16 percent of Sherwin-Williams' sales were from outside the U.S. The Valspar purchase would push that figure to 24 percent, the company said in a presentation to investors.
Valspar also sells coatings to packaging companies, and to manufacturers of industrial appliances and heating and air conditioning equipment.
Sherwin-Williams will remain headquartered in Cleveland, but said the combined companies will maintain a "significant presence" in Minneapolis, where Valspar Corp. is based.
Sherwin-Williams manufacturers and sells paints and coatings under its own name and brand names such as Minwax, Dutch Boy and Thompson's Water Seal. It operates more than 4,100 of its own stores and sells in big home-improvement chains like Lowe's and Home Depot.
Morikis was just named Sherwin-Williams' CEO in October, but has been with the company since 1984. The company has had fewer than 10 CEOs since it was founded in 1866.
Valspar, which was founded in 1806, makes primers, stains and varnishes that it sells directly to manufacturers of appliances, construction equipment, furniture and other goods. It also sells auto paints under the De Beer and Matrix brands.
Sherwin-Williams said it is borrowing funds from Citigroup Global Markets to help finance the deal.
The acquisition is subject to antitrust review and is expected to close by the end of the first quarter in 2017. The government sometimes requires companies to sell parts of their businesses as a condition of winning antitrust approval.
The deal's terms provide that the acquisition price will be cut to $105 for each share of Valspar if the company is forced to sell assets that generated more than $650 million of Valspar's revenue in 2015.
And Sherwin-Williams can terminate the deal if the asset sales exceed $1.5 billion in 2015 revenue.