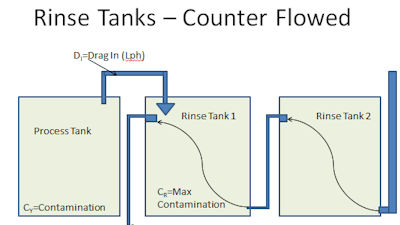 This is the third installment of a three-part series. Click here for parts one and two.

Purified water, such as reverse osmosis (RO) or deionized (DI) water contains few to no ions. Therefore, it is very different from soft or hard water in how it relates to cleaner baths. Since there is a dearth of Total Dissolved Solids (TDS) contained in the solution, purified water does not inhibit saponification or increase the amount of sludge in the bottom of a cleaner. With purified water, cleaner softening is not a concern nor is issues with ensuring the cleaner is contained within the solution. However, purified water is the most expensive of the three water options. It is much more expensive than hard water, and is even more expensive than softened water.
Cost
The cost of purified water is its constant downfall. Were it as cheap as hard water, there would be absolutely no reason to use anything else. Because of this, purified water rinse tanks are not much more than a nice thought for many platers.
Purified water is truly ideal for rinse tanks, since it will add next to zero to the process and will readily accept soils/soaps from the surface of a part. However, there are methods to maximize rinsing with non-purified water, such as counter flow the rinse tanks. The effect of this practice would be amplified in a rinse containing purified water.
Purified water causes little to no problems in the plating and post-treatment tanks. No issues exist with sludge or outside contamination from your water source. Whatever you put into the tank is the only things present requiring monitoring. Since plating and post treatment tanks represent the biggest investment of your entire process line, RO and DI are recommended to add a highest level of assurance that your investment is protected.
Conclusion
There are three different types of water and each impacts plating in different ways. Hard water, while likely the least expensive option, has the potential to cause the most issues. Soft water, usually the mid-range cost option, is acknowledged to possess substantially less issues when compared with hard water. Finally, purified water is the most costly alternative, yet is recommended as the best option.
Jake Fischer is an author for Asterion LLC, a surface technology company. Next week's article will examine the use and selection of soft water when employed as part of the plating process. To obtain a copy of the complete white paper, "Water and the Plating Process," please contact [email protected] or click here.