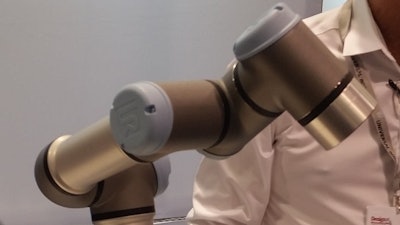 David Mantey
In May 2015, Universal Robots was acquired by Teradyne for $285 million in cash. At UBM West, I had the opportunity to discuss the new ownership as well as the future of collaborative robots with Craig Tomita, area sales manager of the western region for Universal Robots, a man who has more than 25 years in industrial robotics.
The discussion about the new ownership was swift, and Tomita simply described Teradyne as a benevolent owner. However, when the subject switched to the company's new UR3, as well as the future of the collaborative robotics industry, we had a bit more meat to rip off of the bone.
The UR3 (see photos in the gallery above) is the company's next generation of collaborative robot with a 3 kg maximum payload. The smaller, table-top robot was designed for light assembly tasks and automated workbench scenarios – the UR5 (5 kg max payload) and UR10 (10 kg) are better suited for the heavy lifting.
The UR3 weighs 24.3 lbs. (11 kg) and has 360-degree rotation on all wrist joints, as well as infinite rotation on the end joint.
According to Tomita, the collaborative part of robotics is the most interesting, particularly the flexibility for low volume, high diversity applications. He added that they have the potential to make a big impact on contract manufacturers, which typically deal with a diverse body of work.
While workers initially hesitate to be around robots due to safety and complexity concerns (as well as fears over impending replacement), Tomita stressed that ease of use helps quell such anxieties.
"Previously, the user had to be a programmer or an electrical engineer to make a change," said Tomita. "Now, the UR3 is more user-friendly." It's also common for clients to anthropomorphize the collaborative bots. Without providing the client's name, he discussed how one particular staff had named a pair of collaborative robots Thelma & Louise after… Well, if you're not familiar with Thelma and/or Louise, visit your local library and spend two hours cherishing some early 1990s female empowerment.
Tomita stressed that collaborative robots are not out to replace human counterparts on the factory floor, but rather should be employed for repetitive movements, perhaps in harsh environments, and leave the fine motor skills to the humans.
For much of Universal's success in swaying the naysayers, Tomita credited the Denmark-based product developers who understood the limitations to broad adoption, and addressed them with each subsequent product launch.
The UR3 is particularly suitable for machine tending applications, such as at a CNC, where it would put in the part, close the door, and remove the finished part. According to Tomita, it makes lights-out automation possible for small-to-midsize manufacturers (SMMs).
"If one robot can do a lot of human tasks, it lowers costs," Tomita said. As for the cost cutting, he said that it could play a part in the further regionalization of manufacturing. "By giving collaborative robots a larger role, we're enabling reshoring by leveling the playing field regarding labor costs."
Tomita, who left Festo for Universal Robots in September 2015, said that the move was an easy choice for him, because he sees collaborative robots as one of the hottest areas in all of robotics. "Industrial robotics companies are scrambling to achieve a collaborative robot," said Tomita, because the market for collaborative bots are the users who never before used robots.
So how do we make further implementation happen? According to Tomita, the best way to push mass adoption forward is to get government agencies more involved in SMMs, particularly by offering more financial innovation incentives. Some may disagree, but I certainly find free money to be easier to spend.
For more coverage from the eight co-located shows that I will collectively refer to as UBM West, please visit IEN.com, follow @IEN_Now on Twitter, or like us on Facebook, where I encourage you to share your photos from the show.